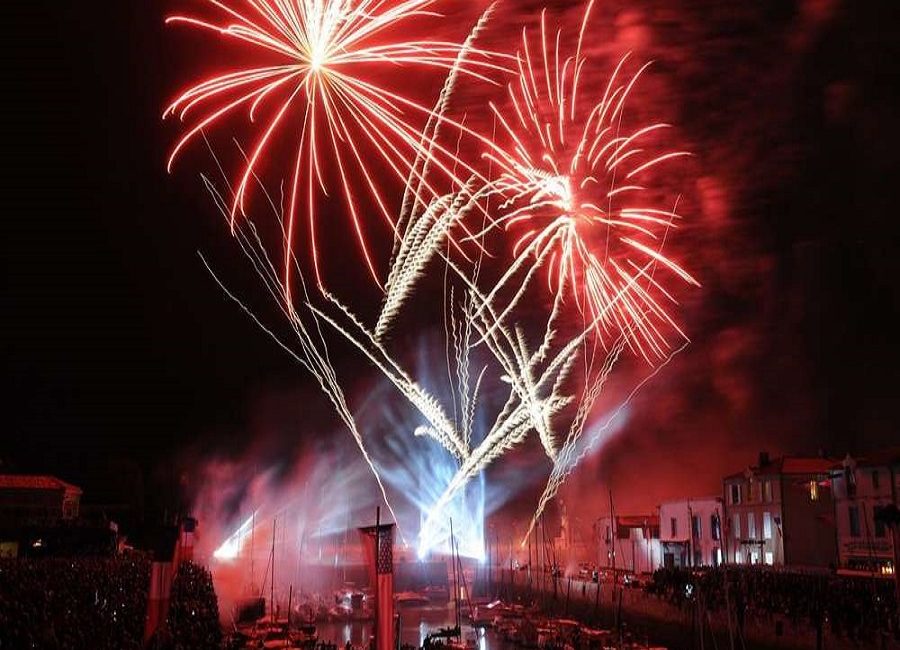 Show La Flotte en Ré, Sunday, August 11, 2019
Sound and light show with fireworks!
The must-see event of the summer
The traditional evening of the Pyromelodic Show of La Flotte en Ré will take place this year on Sunday, August 11. Lighthouses on the port, which will be illuminated again at nightfall by fireworks mixed with sound effects that will punctuate the evening until midnight.
The festivities begin at 9pm, with the arrival of the "Y a d'la joie Productions" troupe for two hours of performance, which will be followed by the launch of the pyrotechnic show at 11pm.
This year's theme?...the night will be punctuated by a rhythmic rhythm
For this new edition, the theme of the evening will be Musical Comedies.
Au programme in particular: Grease, Cabaret, Notre Dame de Paris, Le Roi Lion, Starmania, Mamma mia, All that Jazz, enough to gather a large panel of spectators, young and old.
More than 10,000 people will be expected for the occasion.
De what to guarantee good festivities! At the last edition, Léon Gendre, Mayor of La Flotte, advised to come early in order to put the most chance on his side to find a good place to attend the show.
This sound and light is labelled Sites en scène, the label of the Charente Maritime Departmental Council for free outdoor shows in heritage sites.
In a nutshell
Show La Flotte in D
From 9pm to 11pm: The best of musicals by "Y a d'la joie Productions"
Scenic adaptation of the greatest musicals
From 11pm to 11.40pm: Pyromelodic fireworks display on the theme "Musicals" by Jacques Couturier