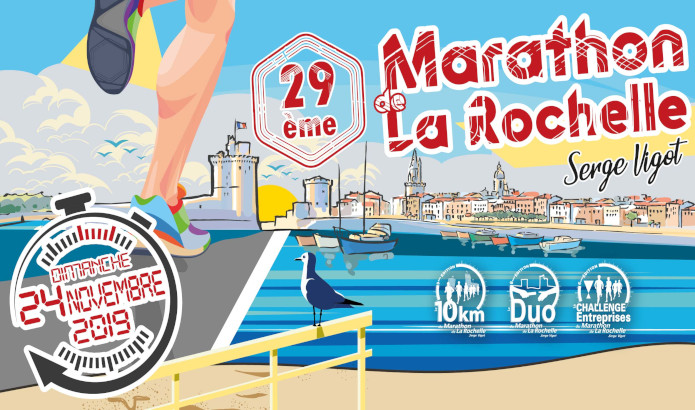 La Rochelle Marathon 2019
Sunday, November 24, 2019
Welcome to the 29th edition of the La Rochelle-Serge Vigot Marathon!
As for each edition, the association, its 63 members, and its 1200 volunteers have mobilized to ensure that the 2019 vintage of this great event is a success again this year.
To participate in the 29th edition of the La Rochelle-Serge Vigot Marathon, on Sunday 24 November 2019, is to experience a popular and festive event with nearly 10,000 runners. Always the marathon spirit with more than 6000 runners on the "42,195 km". Whatever their objective, level or form, each competitor will be enthusiastic and surprised by their performance, one of the fastest. An opportunity to break his personal record.
This year, the marathon starts were refined with the implementation of a double start in the opposite direction, in order to improve the athletes' comfort. The double start allows you to cross the line more quickly and without trampling. The 2 platoons (2/3 of the riders Quai Louis Durand and 1/3 quai Maubec) are separated over 610 m of racing.
The The race takes place on an urban course of 21.1 km in eight of 21.1 km to be run twice. The highlights of the new course will be:
New in 2019 : Passage over the old Port, quay Valin
2 departures near the Old Port, grouped at 610 m
Course realized in 2 loops
Passage through the historic centre of La Rochelle
Last kms: Allée du Mail, Parcs, rue du Palace (under the arcades), Big Clock, Cours des Dames and arrival next door of the 2 Towers
This year again, in addition to the flagship race of the Marathon, 10 km, DUO (a relay race), and the challenge companies all of which have been very popular since their launch.
The Gambette Heater will still have many participants to make this informal Saturday morning meeting a success and solidarity.
The organization also renewed its involvement in the Handisport, with the 19th edition of the Semi-handisport armchair and the 15th marathon for blind and partially sighted people, including the setting up an early departure for athletes who are blind.
This event also tends to increase the commitment to to protect the planet and develop labelled innovations "Clean Marathon" throughout the weekend.
Such initiatives are only effective when they are shared and carried by the greatest number of people.
The brave men and women arriving from the Marathon will receive the mythical windbreaker of the event, the medal, the oyster box and the rose for women.
Participants in the other races will be warmly rewarded They too, each race being an individual and sometimes also a collective challenge.
Come and celebrate sport, friendliness and pleasure in La Rochelle, the last weekend of November 2019, you will be expected to attend numerous!
This year again, come and spend an unforgettable weekend in La Rochelle on the occasion of the 2019 edition of the Marathon de La Rochelle-Serge Vigot!