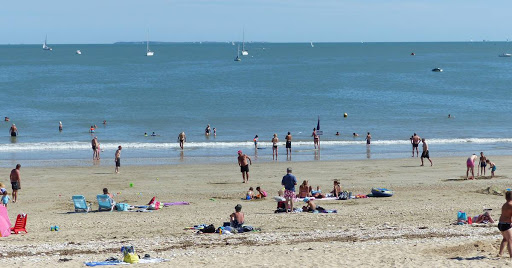 Where to go to the beach in Rivedoux-Plage?
The beach on Rivedoux Plage
Do you want to enjoy the beach during your stay at the Hôtel de La Marée and the Hôtel Restaurant du Grand Large? You've come to the right place…and you can even walk there from the hotels.
Indeed, the two hotels are located on both sides of the town of Rivedoux Plage (either north side and south side) and it is the only town on the Ile de Ré bordered by two beaches!
From the Hôtel de La Marée, it takes 5 to 7 minutes on foot to get there. For the Hotel Restaurant de Grand Large, it's even simpler: you just have to cross the road, the establishment being located opposite the beach!
Each beach extends into two large sandy strips as soon as you cross the Ile de Ré bridge! On the North Coast, 1,4 km of stretch of sand are at your disposal and on the South Coast, 2 kilometers of fine sand are available to you!
Beaches with many activities
Determine the beach of your choice according to the desired activity! Indeed, the North beach is more suitable for oyster farming with its many oyster beds visible at low tide. You can also practice Kite Surfing there!
The South beach is ideal for swimming, boating, sailing, paddleboarding or even jet-skiing.
South beach: accessible to all
Many improvements have been made on Rivedoux Plage to make the South Beach accessible to all audiences. At your disposal is: a first aid station, showers and toilets for people with reduced mobility. But also access mats called "Escal à Dunes" as well as chairs suitable for moving on the sand and swimming for people with disabilities (in summer only).
Finally, you will discover picnic areas, play areas for children, a fitness trail and also beach snacks. Not to mention our Grand Large restaurant which offers a magnificent view directly on the ocean and the beach!
Source: http://www.rivedoux-plage.fr/vivre-a-rivedoux/les-plages