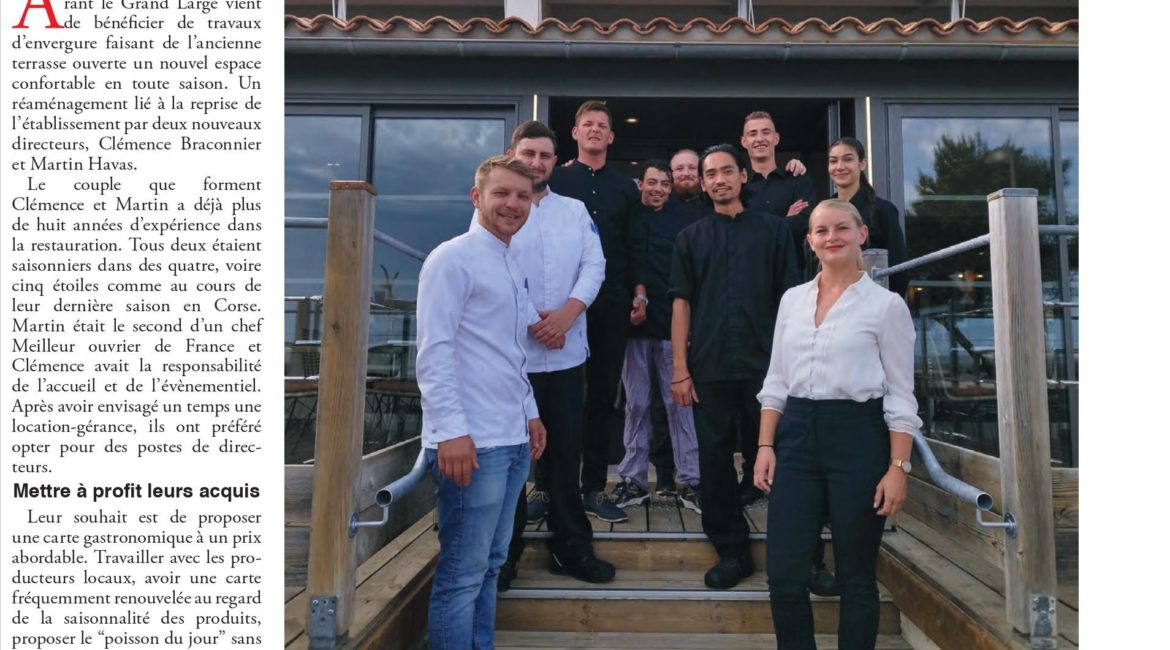 Restaurant Le Grand Large – A nice article from the Phare de Ré!
The article from the Phare de Ré: The restaurant Le Grand Large in the spotlight
An article from the Phare de Ré, the local weekly newspaper of the Ile de Ré, was devoted to the restaurant Le Grand Large – Ile de Ré, when it was published on Wednesday June 15, 2022.
This article from Lighthouse of Re highlights the brand new team of the restaurant Le Grand Large, the new card, the new setting and the atmosphere.
Find the details below.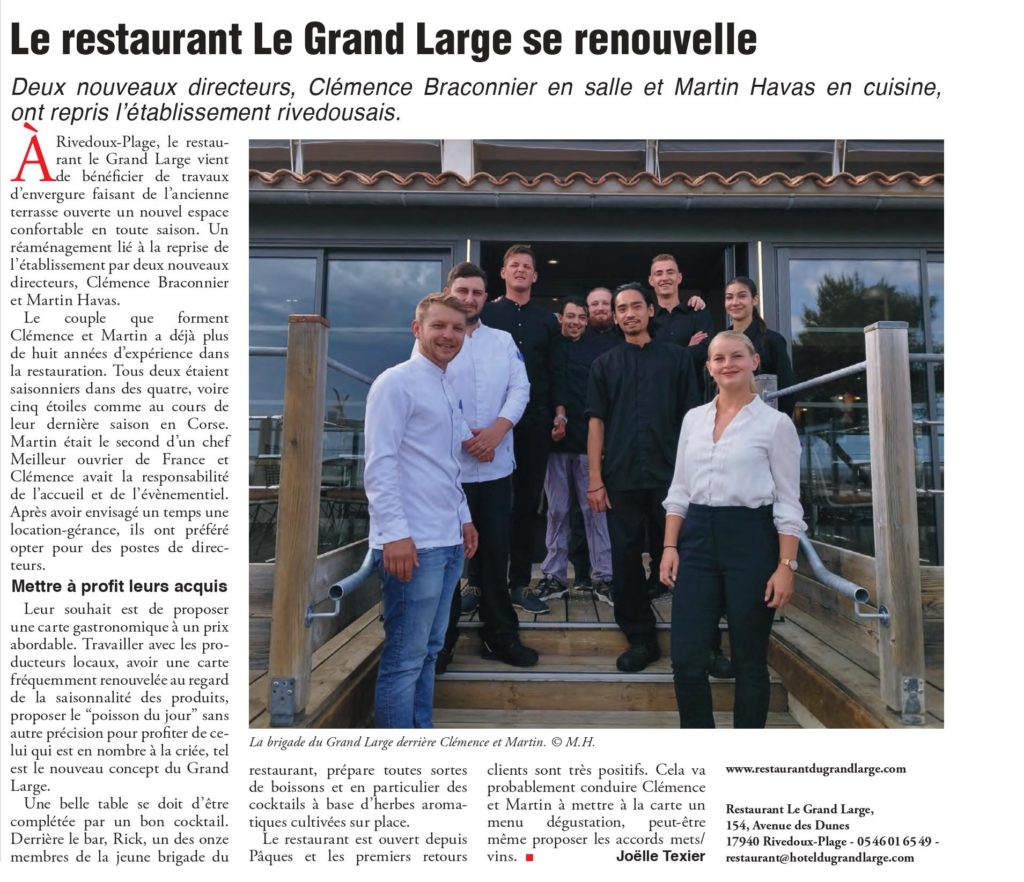 If you can't view the image of this article, here is the content of it:
The Restaurant Le Grand Large is renewed
Two new directors, Clémence Braconnier in the dining room and Martin Havas in the kitchen, have taken over the Rivedouais establishment.
In Rivedoux-Plage, the Grand Large restaurant has just benefited from major works making the old open terrace a new comfortable space in all seasons. A redevelopment linked to the takeover of the establishment by two new directors, Clémence Braconnier and Martin Havas.
The couple formed by Clémence and Martin already have more than eight years of experience in the restaurant business. Both were seasonal in four, even five stars as during their last season in Corsica. Martin was second in command to Meilleur Ouvrier de France and Clémence was responsible for the reception and events. After considering a lease-management for a time, they preferred to opt for director positions.
Build on their skills
Their wish is to offer a gourmet menu at an affordable price. Work with local producers, have a menu that is frequently renewed with regard to the seasonality of the products, offer the "fish of the day" without further details to take advantage of what is in large numbers at the auction, such as
is the new concept of the Grand Large.
A beautiful table must be complemented by a good cocktail. Behind the bar, Rick, one of the eleven members of the restaurant's young brigade, prepares all kinds of drinks and in particular cocktails made from aromatic herbs grown on site.
The restaurant has been open since Easter and the first returns
customers are very positive. This will probably lead Clémence and Martin to put a tasting menu on the menu, perhaps even suggest food/wine pairings. ■ Joelle Texier
www.restaurantdugrandlarge.com
Restaurant Le Grand Large, 154, Avenue des Dunes 17940 Rivedoux-Plage – 05 46 01 65 49 – restaurant@hoteldugrandlarge.com