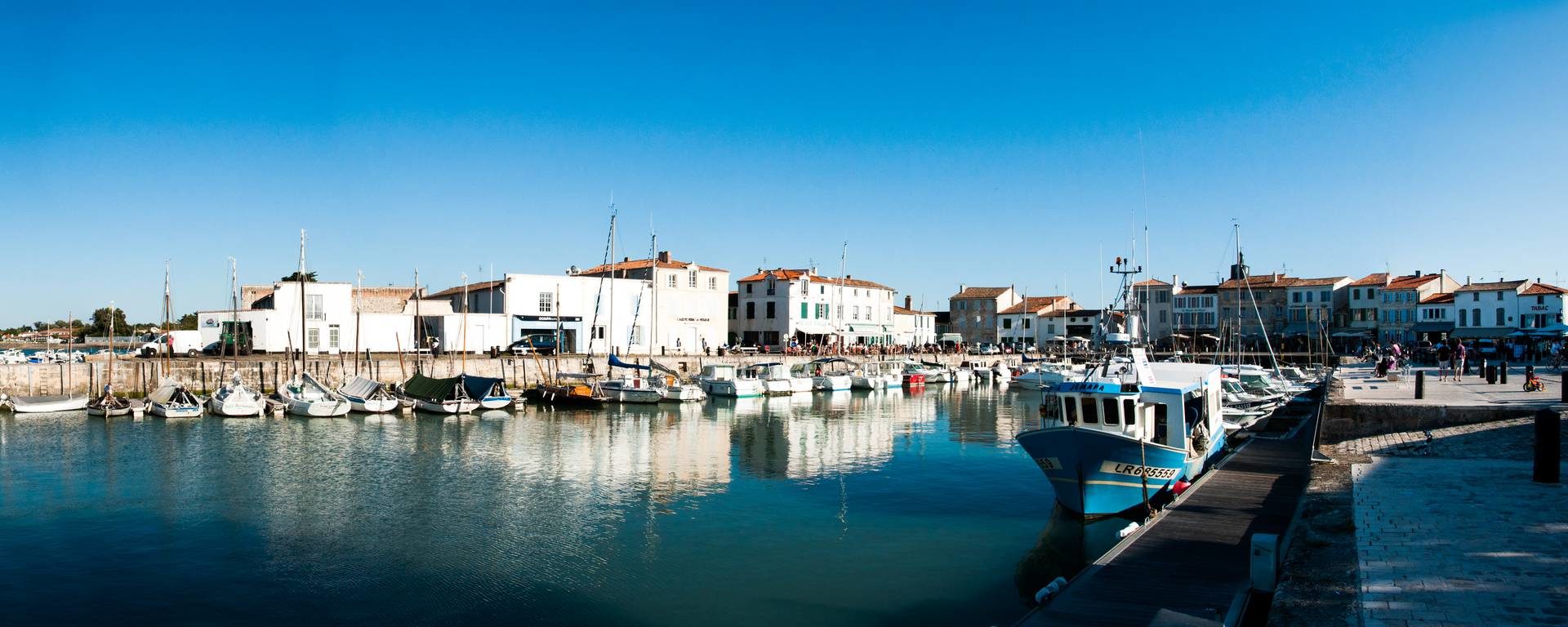 Discover the charm of one of the oldest villages on the Ile de Ré
La Flotte, one of the most beautiful villages in France
Formerly a fishing village, La Flotte is today an essential stopover in your discovery of the Île de Ré, classified as "The Most Beautiful Villages of France" for its heritage and its remarkable architecture, its narrow and flowery alleys, its market of medieval inspiration and the charm of its port.
In the Middle Ages, La Flotte lived on the cultivation of vines with the installation of the monks of the Abbaye des Châteliers. La Flotte is a historic village that invites its visitors to stroll along the port or under the plane trees of Cours Félix Faure under the gaze of old XNUMXth century housesnd century.
The port
La Flotte is a stopover that sailors know well.
Built in 1765 by Gabriel Sénac de Meilhan in order to develop maritime trade, the port was successively a commercial port for the export of salt and wine, then a fishing port and a marina. The Port de la Flotte now welcomes many boats and sailboats stopping over on the Île de Ré. Lined with numerous restaurants, lively terraces, ice cream parlors or small bistros, the port extends over a characteristic pier dating from 1840: a rounding of 200m to the foot of the green lighthouse measuring 9 meters high which protects the entrance of the port and guides the sailors.
The port is also classified "Pavillon Bleu", an eco-label guaranteeing a sustainable approach and a quality environment.
The port of La Flotte welcomes old boats or "old rigs", reminiscent of the activity of fishing boats of yesteryear, 5 of which are classified as Historic Monuments.
Market
Its unique charm will make you succumb. Built in 1804 and inspired by medieval architecture, this picturesque market is reminiscent of the halls of yesteryear. Magnificent paved courtyard lined with stalls covered with wooden lean-tos, a well once stood in its centre. Today it is local producers, traders who bustle every morning from 9 a.m. to 13 p.m. to offer visitors a selection of local products, fruits and vegetables, meat and fish, shellfish and crustaceans, cheeses and regional products to delight your taste buds.
"Villages of stones and water"
La Flotte is part of the "Stone and Water Villages" network, like 13 other emblematic towns in Charente Maritime, which come together around a common heritage where two elements meet: stone, with buildings and water. in all its forms.
Source: https://www.iledere.com/decouvrir/10-villages-10-visages/la-flotte